"What's new in Everlance?" This article is updated each month to answer exactly that question. You'll find the newest changes at the top, followed by a log of earlier improvements as you keep scrolling.
Check back regularly to stay up-to-date on new features as we're continually enhancing our product, fueled by feedback from customers like you. Have a suggestion for how we can better meet your needs? We want to hear it!
November 2023
Whether you are an account administrator or a driver, you'll notice changes on how much easier it is to submit a report as well as review or edit a driver's program history and more! We're also excited to show a sneak peek of our upcoming feature, Outliers!
Save Time Reviewing Reports with Outlier Rules
Coming in Q1 2024, account administrators will be able to create custom rules that will surface reports they want to review the most (e.g. reports with daily mileage greater than 500). You'll be able to save time by immediately reviewing reports that matter most to you and standardize your reimbursement process by reviewing all reports with the same criteria.
See a recording of the 3-minute sneak peek demo here. 
Please contact payden@everlance.com if you'd like to be a part of the beta program!
Easily Access Driver Program History
Available on the main Members page or on the individual Member profile, reassigning or reviewing a driver's program is now easier than ever! Learn More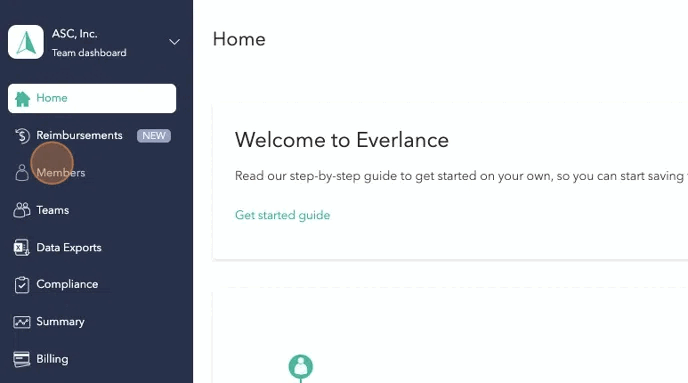 Streamlined Reporting Process
Drivers will notice an improved workflow for creating new reports and adding trip details from their dashboard. When they need to add new trips, it will no longer take them to a new page but will result in a pop-out drawer, resulting in fewer steps.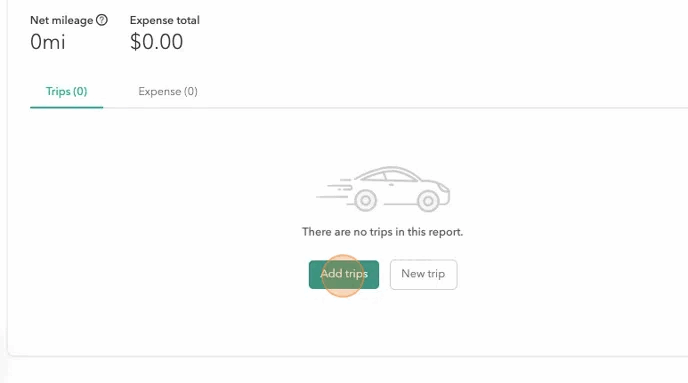 View Daily Trip Summaries
Summary View is now being rolled out! Drivers can toggle between Daily and Trips views to either see summaries of each day driven or view the entire trip history of the current pay period. The summary card will also display what percentage of daily trips have been classified.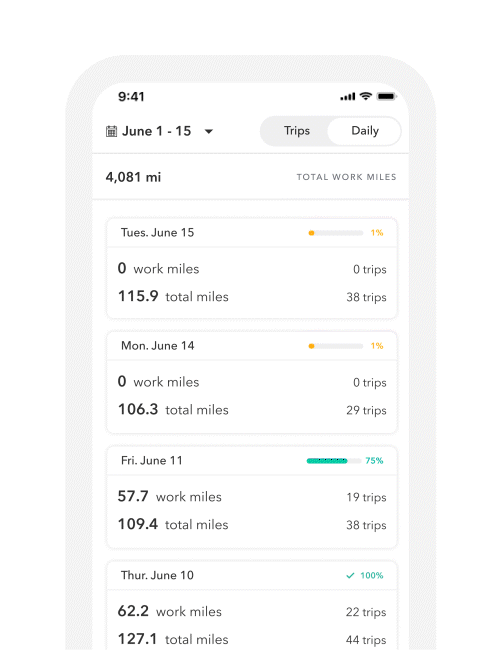 Want to see a recap of major feature improvements for 2023? Take a look at our 2023 feature release webinar here.
October 2023
Each monthly we consistently review driver feedback on how we can continue to improve. For October, we're excited to share our new SOC 2 Certification, so you can continue feeling secure knowing your data is protected! 
SOC2 Compliance
 We are excited to share that we have achieved SOC 2 certification! Data security and privacy are top priority here at Everlance, and this certification validates that our systems and protocols meet the highest industry standards for protecting your information. 
Earning SOC 2 compliance ensures Everlance undergoes annual third-party security audits to maintain leading-edge protocols as technology evolves. You can feel confident knowing formal reviews verify our ongoing commitment to robust controls and handling your information with the highest levels of trust and care.
Download Multiple Pay Periods at Once
Review by Pay Period - Coming Soon
The Trips page in the app is getting an updated view with smarter default views for driver. With the new default view, they will see a daily summary of their trips organized according to their current reimbursement schedule. 
Each summary card will have a progess bar that shows the amount of trips that are classified vs. still need to be classified.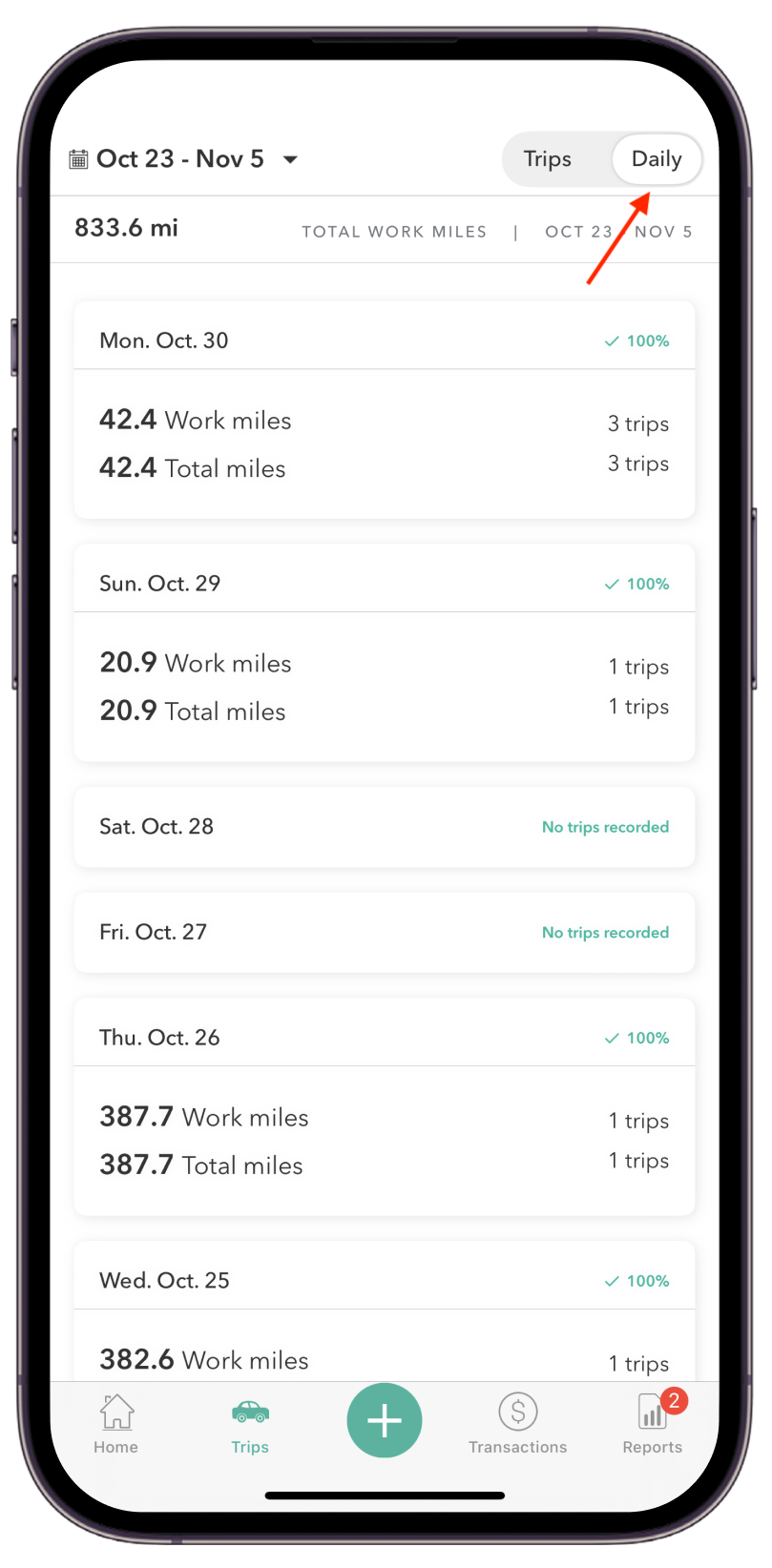 If your drivers want to filter by custom date, purpose, or complete bulk-actions like batch-classifying, they will still be able to complete those functions by sliding the toggle from Daily to Trips.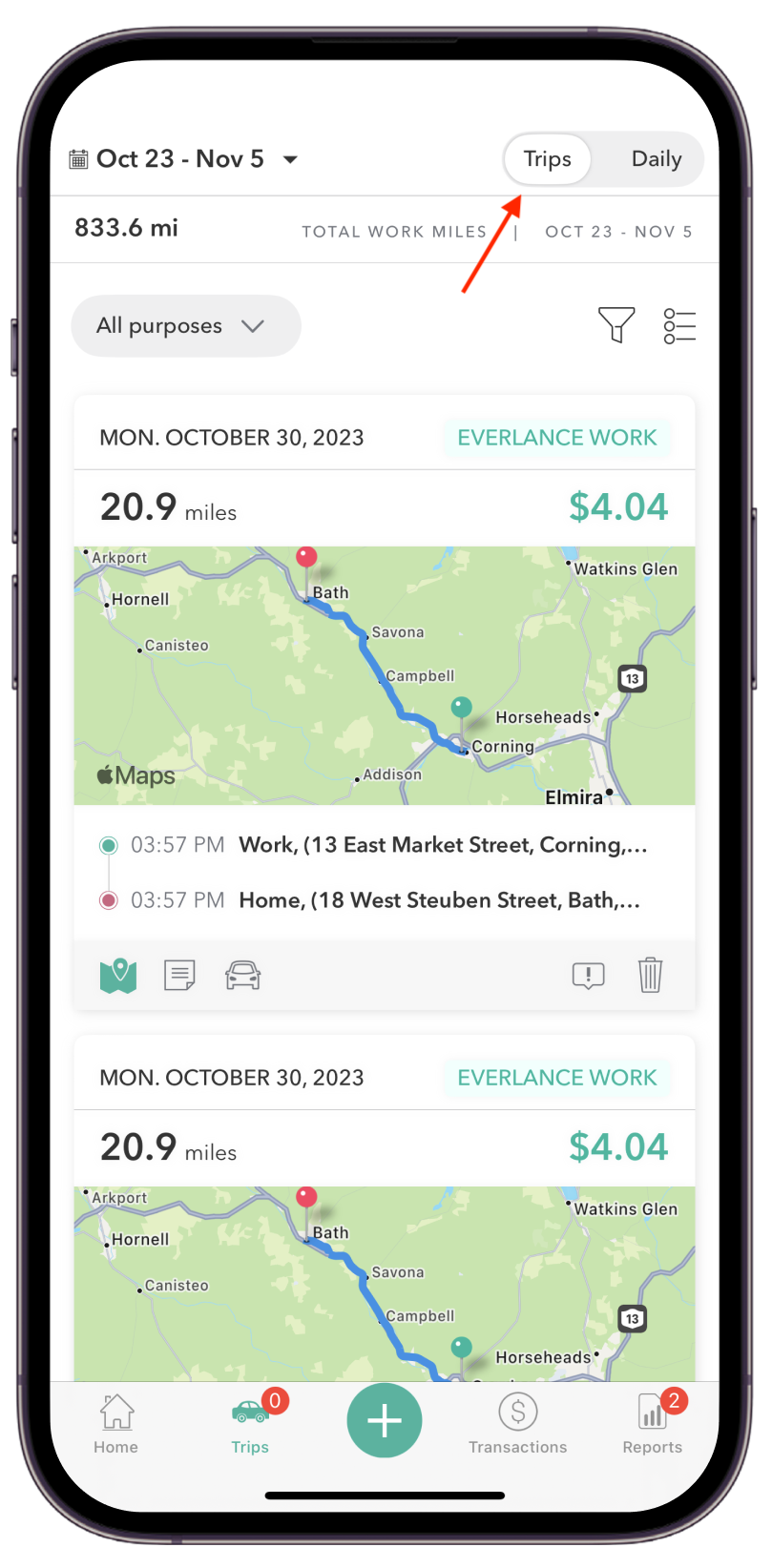 The funnel icon allows them to filter by Favorite Place and the list icon allows them to make changes such as bulk edit, delete, classify, etc.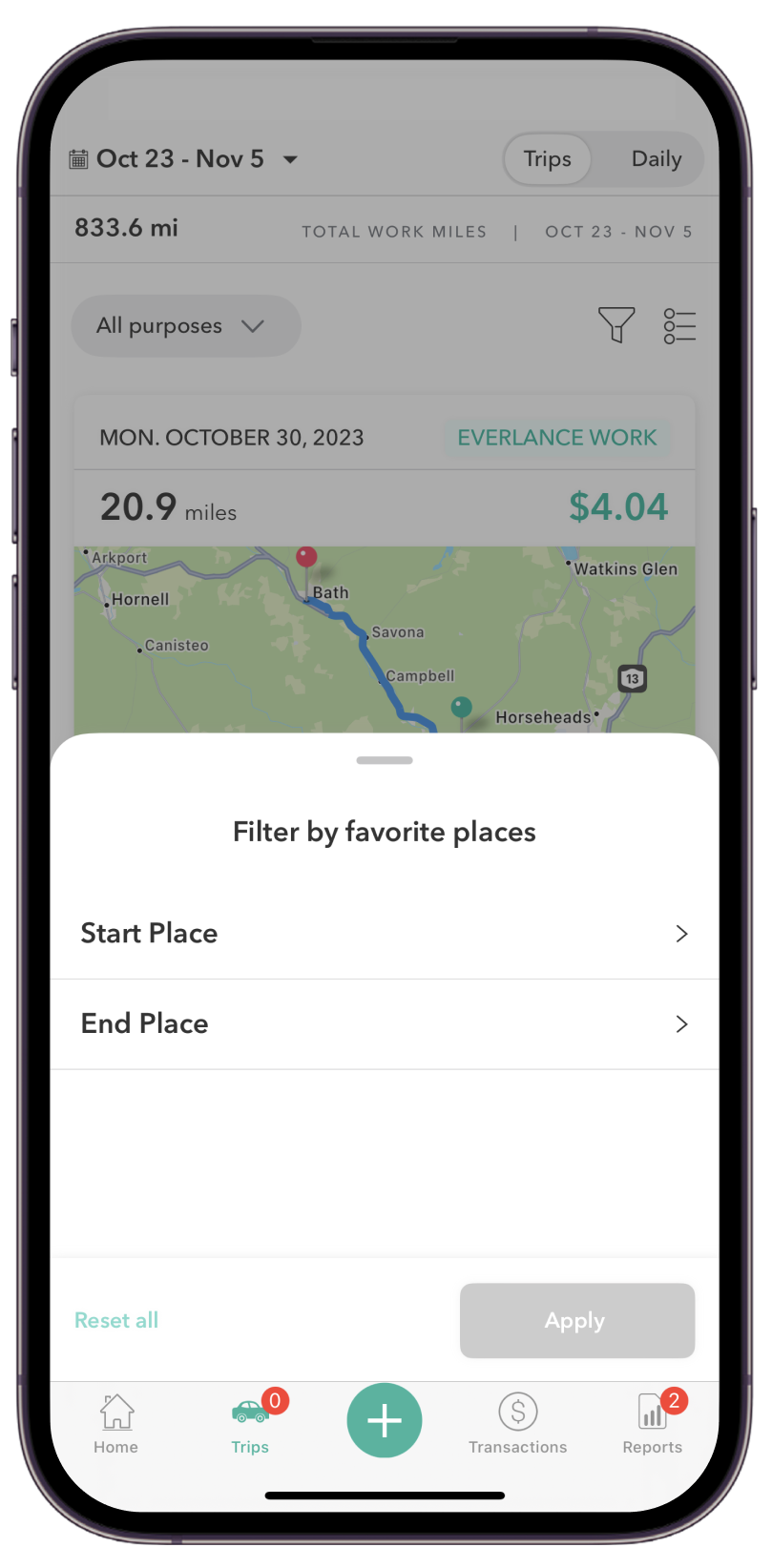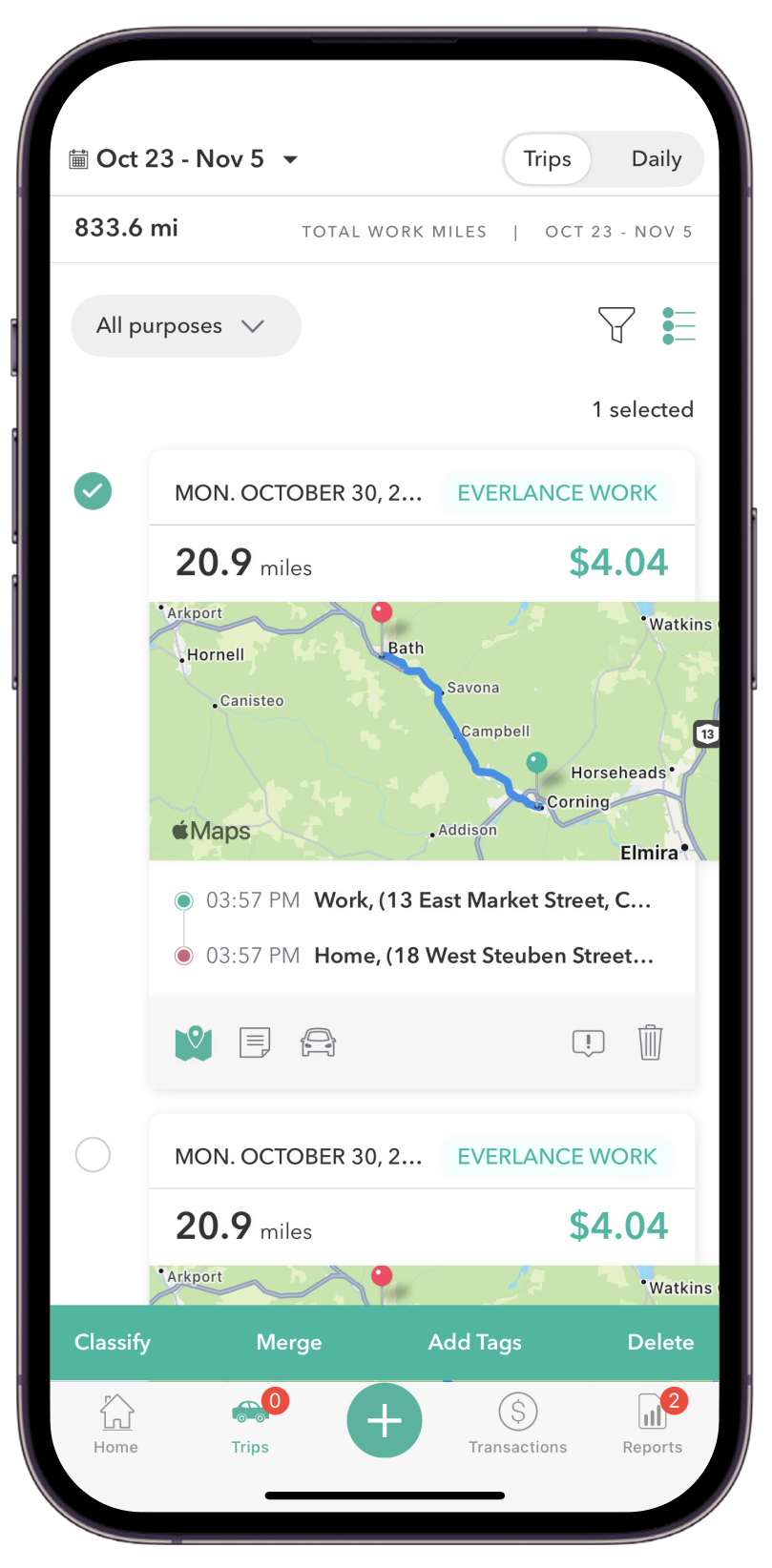 September 2023
Your drivers' experience is always top of mind for us, and we are excited to share some new updates we've made recently that will make common tasks, like editing a trip, even easier! 
View Work Schedules on Member Profiles
Managers and Super Admins can now  navigate to an employee's profile to confirm accurate schedule settings in the app. This adds convenience for managers to verify employees have their schedules accurately configured in the app.  Drivers maintain full control to turn the automatic work trip tracking on or off as well.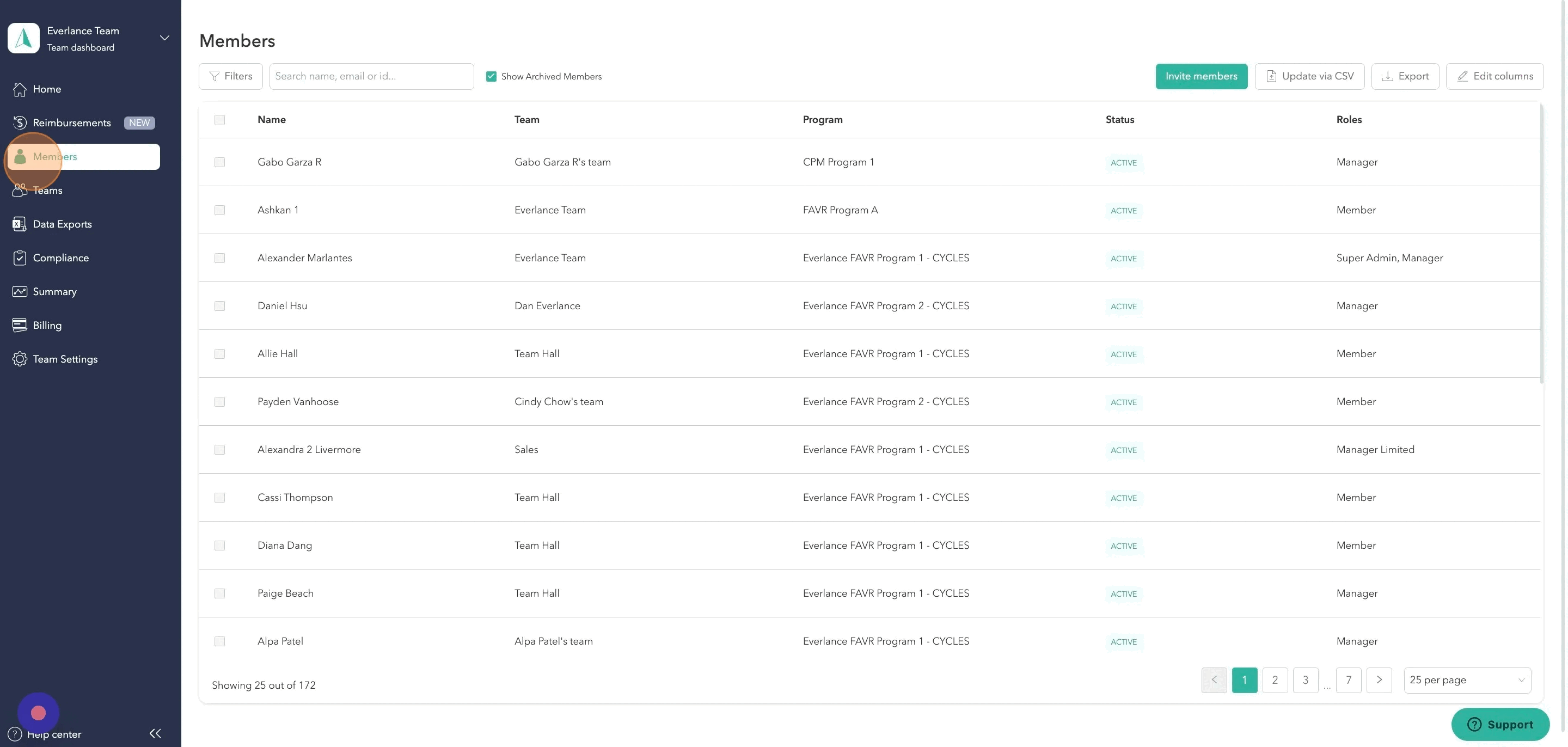 Updated Data Export Page
The Data Export page has the same features and functionalities, but we have updated the UI to make the experience more intuitive. If you want to learn more about your Teams' Activity, we recommend checking out the Summary page. Learn More


Improved Edit Trip Flow
You'll see a new "Favorite Places" option that lets you quickly select from your Favorite Places based on the closest one to your current proximity.. If the place you need isn't already a favorite, easily add the new address. Then you have the choice to save it as a Favorite Place for even quicker selections on future trips.

August 2023
Summer may be winding down, but we are ramping up the Everlance Admin experience. With our upgraded new Members page, accessing and editing team members has never been easier!


Team Members will also see a new "Do Not Track" option in Work Hours, giving them enhanced privacy control.
See below to get the full scoop on these exciting features!
Customize Your View
From the Edit column in the right corner of the Members,  you can customize the information that is displayed on the Members page such as Name, Compliance status, and more. You can tailor the view to ensure you see only the most relevant information at a glance.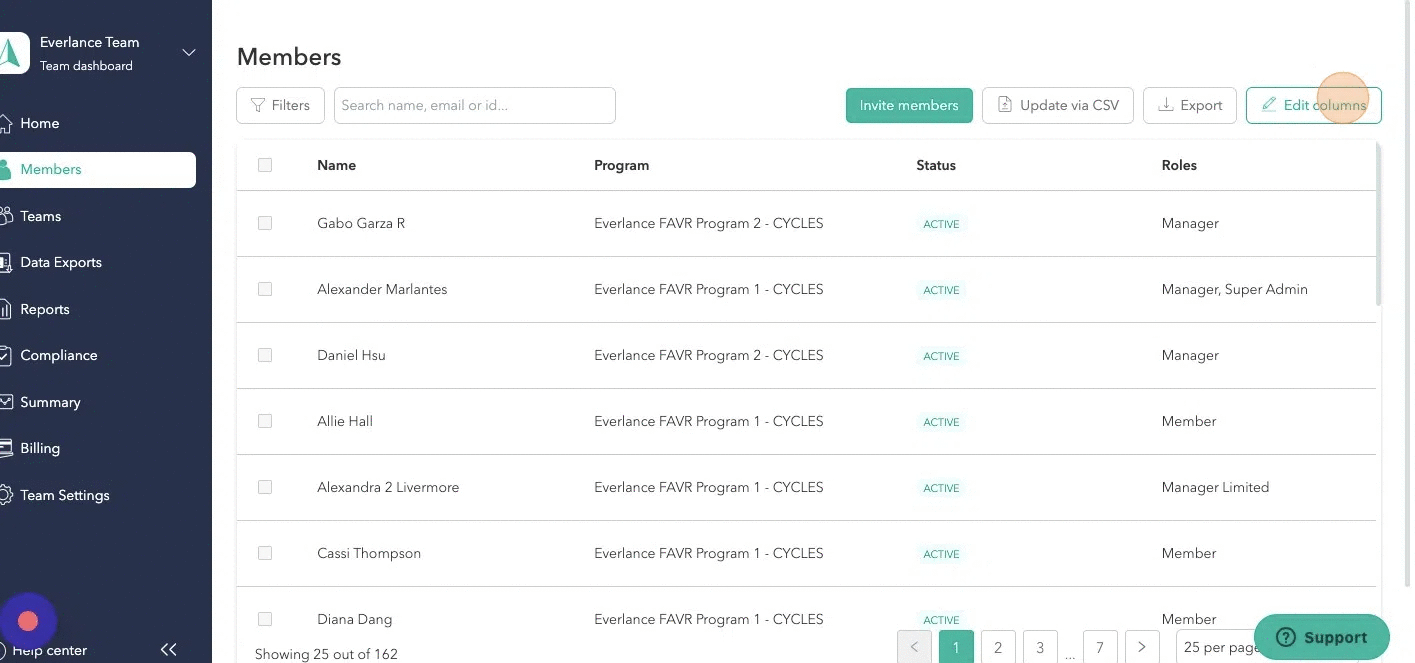 More Advanced Filters
Update Team Member's Information in Seconds
When searching for a specific team member, their details will appear in a convenient pop-up sidebar, allowing you to quickly toggle between sections and make necessary updates, such as modifying roles, programs, report management, and more.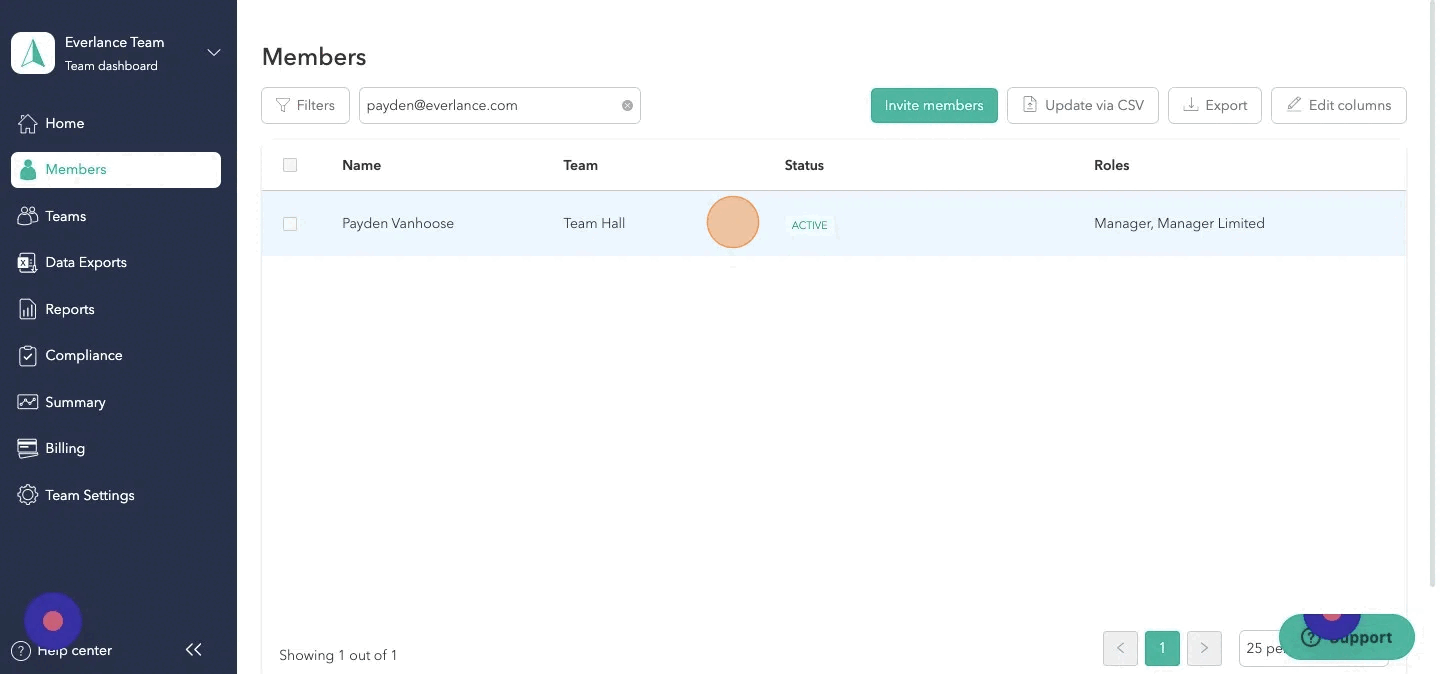 Enhanced Driver Privacy
In the Work Hours tab, drivers now have the option to automatically disable auto-detection during their off-hours which eliminates the need for manual toggling. 
Admins do not have control over this feature, but we recommend suggesting that drivers keep the auto-detection turned on at all times. By enabling the "Do Not Track" toggle, drivers can ensure that their off-hour trips are not recorded without manual switching. Learn More>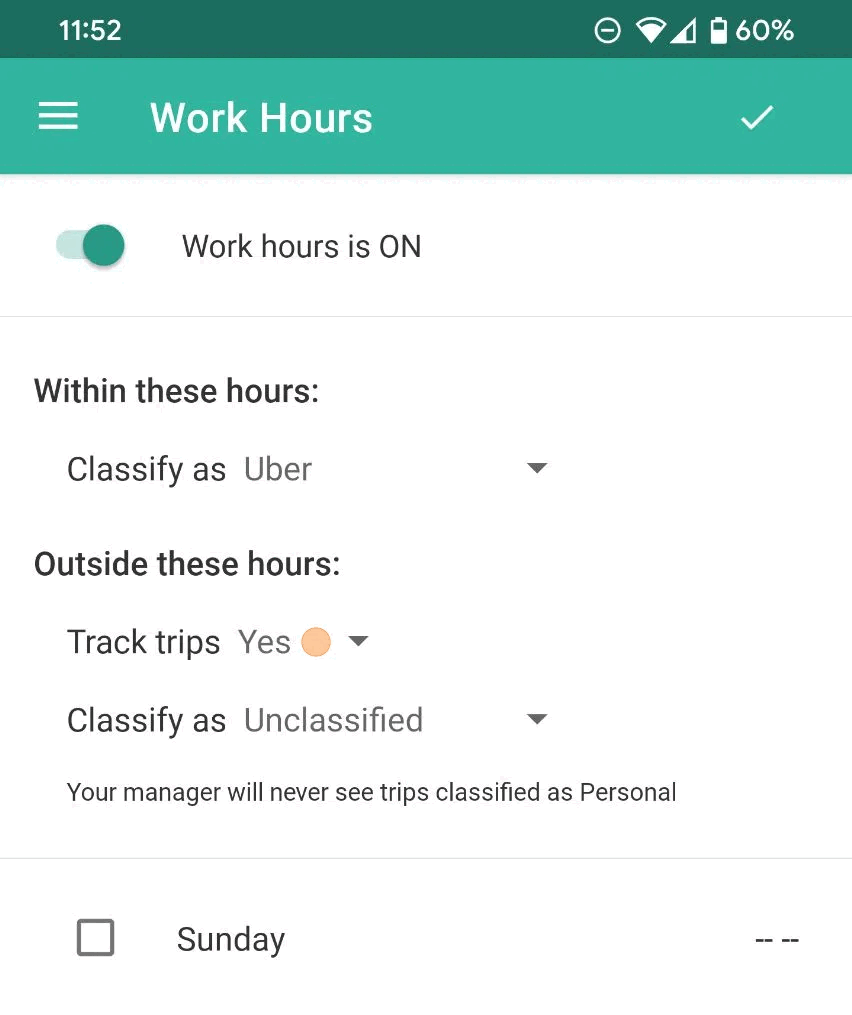 Change Management Resources
July 2023
Many customers asked for more visibility and control over your reimbursement process. We heard you and are excited to announce a new Reimbursement Schedule feature that puts you in the driver's seat.
The feature includes strict reports, reminders for important actions, and schedules for a regular cadence as well as one-off reports.
See Pay Periods and timelines in your Dashboard
The new Reimbursement page is taking over for the old Reports view. Reports are now mapped to specific Pay Periods and allow you to easily approve or reject reports according to your reimbursement policy. For manager-level users, the Reports page remains the same.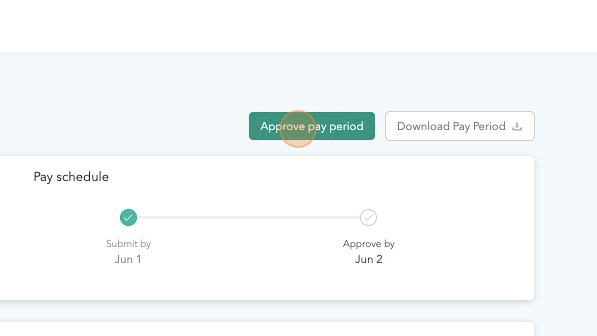 Learn how to Approve Reports by Pay Period here or how to Approve One-Reports here.
Improved Filters & Report Settings
We've made reports more organized by default - you can now even filter by compliance status within a pay period!
Also, drivers are prompted to only submit the trips for one pay period per report. If they submit their report late, their reimbursement will be issued the following pay period.
If they need to submit reports from a previous pay period, those past trips will be submitted in a second report so you can easily review those separately. We will also issue submission reminders to prompt them never to miss a deadline.
What Else is New?
Approval Flow now lives on the Schedules page. Update Approvers and Payers on the Approvals and Deadlines section. Remember, if you change or add a new manager, you'll need to update your Approval Flow too. Learn More
You can now create and update your own Schedule in Team Settings. Learn More
Driver Experience
New Parameters for Pay Periods
When a driver submits a report, they'll only be able to include trips within a certain pay period if they are on a Reimbursement Schedule.
All reports must be submitted by your company's submission deadline. If your report is submitted after the submission deadline, it will be marked as 'late' when reviewed by your manager and reviewed in the following pay period.
If you need to add trips to that report, you can click "unsubmit" and add new trips for that pay period. You can create a second report for the same pay period, but you'll first be prompted to add to the current report.
If you need to include past trips from an older pay period, you'll need to create a separate report.
See Your Deadlines
In the app, there will be a reminder before the report is due for each pay period. If the admin turns on SMS and email alerts, you may receive reminders. Let us know if you have any other questions! Your admins and our support team are here to help you anytime.
Reminder Cards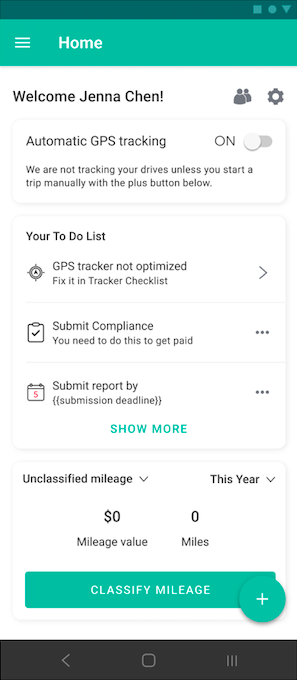 April 2023
Providing you with greater visibility into driver rates for FAVR Programs as well as more tools for population management (like our new Team Tree), our Product team has been working around the clock to deliver you some exciting new features!  
Visualize Your Team Hierarchy with the Team Tree
Having a visual aid of your organization can help you as you manage your team members you grow or as team members switch their team. That's why we've brought back the new and improved Team Tree!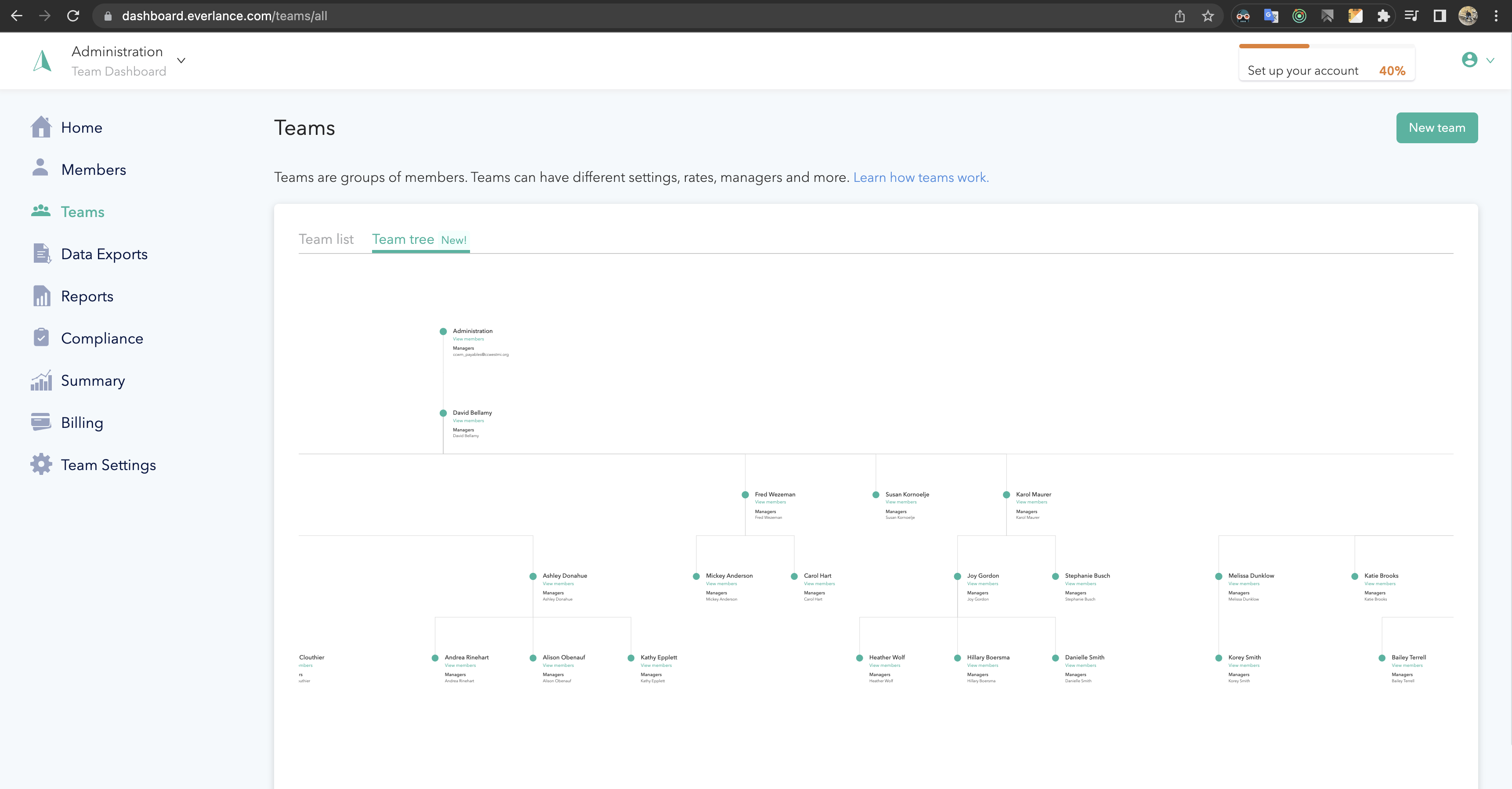 Bulk Update via CSV
The Bulk Update feature allows you to bulk update and change attributes on multiple member profiles at one time via CSV upload.
Whether it's updating your team members' commutes with individual mileage amounts or placing multiple team members on leave, this tool will allow you to streamline your workflows.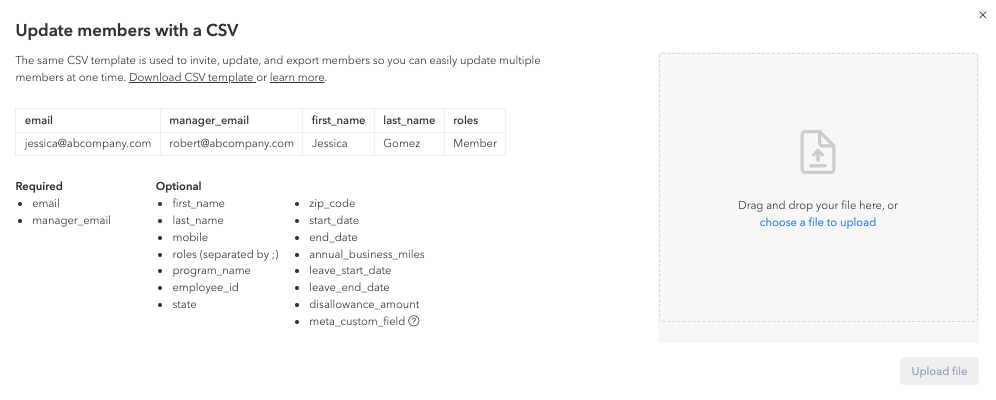 Add, Remove, and Place Members on Leave from the Members page
Our Members page also allows you to add or remove team members from your active member list and place them on leave using the Leave Start and End Date fields on the Members tab. You can also now place team members on leave by filling in the Leave End and Start Dates on their profile.
Learn More (this article includes instructions for managing both CPM and FAVR programs).
FAVR Program Rates on the Admin and Driver Dashboard
Team Rates & Purposes is now replaced with a new settings area called Programs.
Programs will make it easier for you (an admin) and team members to see  FAVR program rates within the Everlance mobile app and dashboard. A member's "Program" determines the variable rate used to reimburse that members' trips.
No immediate action is needed on your part, but we want to communicate a few important details about this update.
Admin Experience
Admins can see the program rate history for CPM (on the program page) and FAVR (in each member's profile page).
Admins can see/update a member's program assignment on the member's profile page.
Reassigning a member's program will change the basis for their reimbursement.


Additional Info to Note:
Driver Notifications: assigning a member into a FAVR program — or updating any of the "required for FAVR" member profile fields — will send an email notification to the member.
Mileage Reports & Invoices: FAVR variable rates will reflect directly on submitted mileage reports going forward (and admin reimbursement invoices).

For FAVR programs, the Everlance team will update and manage program rates.

Fixed Payment Reports: soon Admins will be able to see/approve/reject scheduled FAVR fixed payment reports in the Dashboard (similar to mileage reports today).
Other Key Reminders:
Program Assignment: a member must be assigned into a program to receive a rate.

"No Program" - use this for Admins and Managers who only need to review reports on the dashboard (i.e. they don't need to submit mileage for reimbursement).

FAVR Required Info: these member profile fields are required to calculate a FAVR rate.

Start Date
State & Zip Code
Expected Annual Business Mileage

Permanently Removing Members: use the "end date" field to remove a member from the team (for reimbursements). Admins can still search/find this member on the dashboard.

The member will have 30 days from the "end date" to submit final mileage reports
The "end date" will be used to prorate any final fixed payments.

Temporarily Removing Members: if a member has a "leave start date" (until the "leave end date" passes, if added)

These days will be used to prorate any fixed payments accordingly.
Driver Experience
Driver's will see program rates in the mobile app and dashboard.
TL;DR for FAVR Programs:
Current FAVR rates will appear in the new "Your Team" section of the the home page.
A member's rate history is available on the member profile page (dashboard only).
The Home Screen is also redesigned with frequently used "quick action" buttons.

The rates shown in the above image are for illustrative purposes only and may not reflect the actual reimbursement rates that drivers will see on their Everlance account.
Additional Info to Note:
Variable rates will be updated weekly in the app and reports will show the trip value.
The rate effective on a given date (rates history table) will be used to calculate trip value.
Historical reports that have already been submitted will only show mileage (no value).
Change Management Resources
If you want to learn more about the admin and driver experience for Programs, please check out these Help Center articles:
Admins:
Team Members:
February 2023
2023 is starting off strong; you can now see reimbursement rates built into our Dashboard and report details!
In addition to the new payment transparency features, you will also have the option of streamlining the process of adding new team members by bulk uploading your employee's information.
Read this month's product log to dive into these new product details for both employees and admin!
Driver Experience
The most exciting update for drivers is that you can now see payment rates inside of the newly designed Home Screen as well as the report detail of a pay period!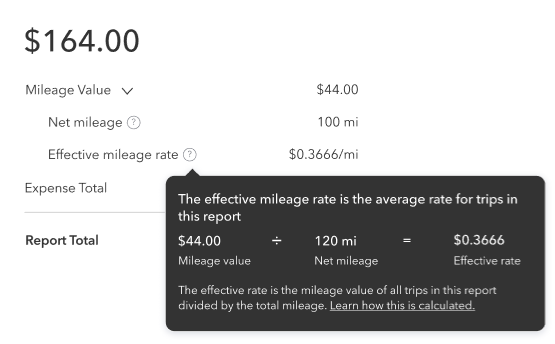 The report detail includes the mileage value, net mileage (after commute mileage has been deducted), and your effective rate. Learn More
With this new level of transparency, your rate history is also visible from the Team Setting Page of the Web Dashboard.

From the Home Screen, in addition to your current rate, a new thoughtful addition also includes Quick Actions: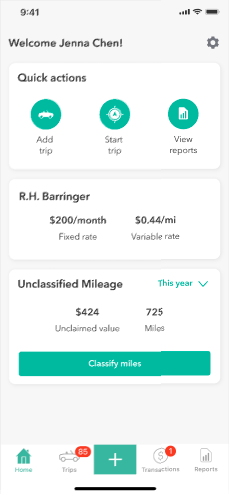 With the three most common activities available at the click of a button, drivers can now easily start a trip, add a trip, or view a report instead of having to make several clicks to navigate to the desired page.
When you log in on the Web Dashboard or the app, you can now click to see their Team Setting page, which shows the following:
Team and company name
Program Name
Employee ID
Commute Deduction
Reimbursement rate
Programs for Admins
The ability to see a driver's reimbursement rate comes with our new Programs update, short for "reimbursement programs." Programs allow you to easily define how and how much you reimburse team members.
An Admin will see the new Programs tab under Team Settings. All the tasks you used to handle via the Rates & Purposes section are now found in the Programs section.
With the new Programs tab, you can now assign team members based on custom rates & Work purposes to their separate Programs (which can have multiple Purposes with Custom rates).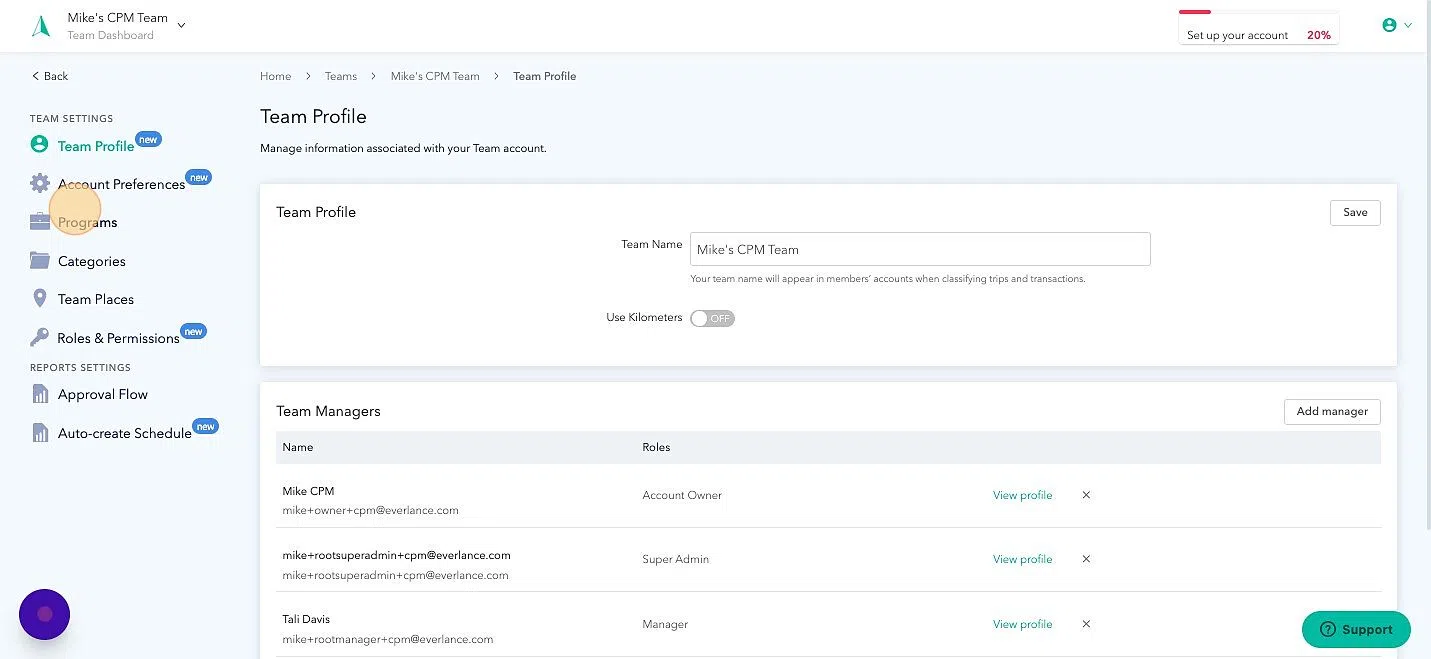 While only CPM programs can be created in the Dashboard, the FAVR Reimbursement Programs are now also viewable and include their Program attributes and requirements.
Now that the rate information is now available on the Everlance platform, you can also now see the reimbursement rate for an employee on their report detail.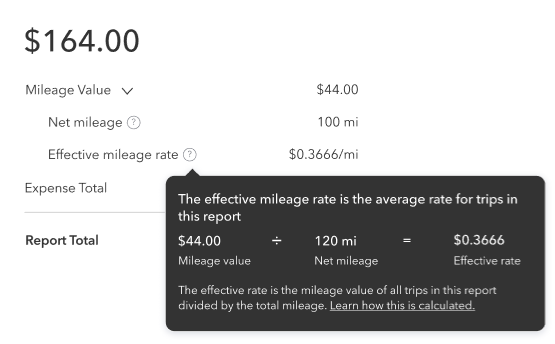 Team Invites via CSV
No more sending individual invites to team members (unless you want to!). With our new Teams Invites via CSV available, you can customize your invites and bulk-invite entire teams at once.
Nov 2022
We have fine-tuned existing features to improve both the Admin and driver experience on the app and the Web Dashboard, as well as added increased visibility into an employee's current status by building the Export feature on the Member page.
Image and PDF Viewer
Want to review receipts quickly? You can now check images attached to a trip or transaction by hovering on the paperclip or PDF icon in the report detail for an enlarged view for easy access.
Trip and Transaction update
Our trips and transaction app page has gotten a makeover! Drivers can now review and edit their trips and expenses on a simpler screen instead of scrolling to enter all necessary information.
Merchant Field
When creating a transaction on the Everlance app and completing the Merchant field, it now dynamically searches for the merchant name and location, so you do not have to enter it in manually! This capability should improve accuracy if your employees don't always spell merchant names correctly or select the right location. 
Export Team User List
You can now quickly access a list of all users in your organization! If you want to see a list of terminated and active employees or see a high-level view of which teams all your employees are in, this Export option is now available on the Members page.
Oct 2022
We now offer our Driver Checkup Bundle to any customer using Everlance as their reimbursement solution. This includes Compliance Verification and Motor Vehicle Records (MVR checks) to help you proactively reduce the risks that come with having employees driving for your business.
Compliance Verification
Maintain employee compliance with your policies by using Everlance to verify driver's licenses and insurance coverage.
Track compliance for all your drivers right from your admin dashboard
Help employees stay compliant with timely notifications
Make it easy for drivers to submit documents from the app
Learn more here >
Motor Vehicle Record (MVR) Checks
Regular MVR checks will reveal any recent violations in your employee's driving history, so you can proactively intervene and reduce the likelihood of an accident if needed.
Reports Filters
It's now easier than ever to locate a report on the Dashboard! With our updated filter options, you can now search with: Status, Report ID, Submitted by ID (Employee email or ID #), Submitted On, and Approved by, or Approval On.
Sep 2022
We launched a smoother, more flexible experience for team and member management in Everlance, with an updated design and powerful behind-the-scenes upgrades. Get ready for a big update!
All the tasks you used to handle via the Team Members section of the Home page are now accessed from dedicated Members and Teams pages found in the menu. They also offer more functionality to save you time and enable you to better customize Everlance to your organization.
Members
A dedicated page showing all your Members makes it simpler to find specific employee(s) and make updates to them.
Search for members by name or employee ID, in addition to email
Filter down the list of members by Role or Team
Select and edit the Role or Team of multiple members at once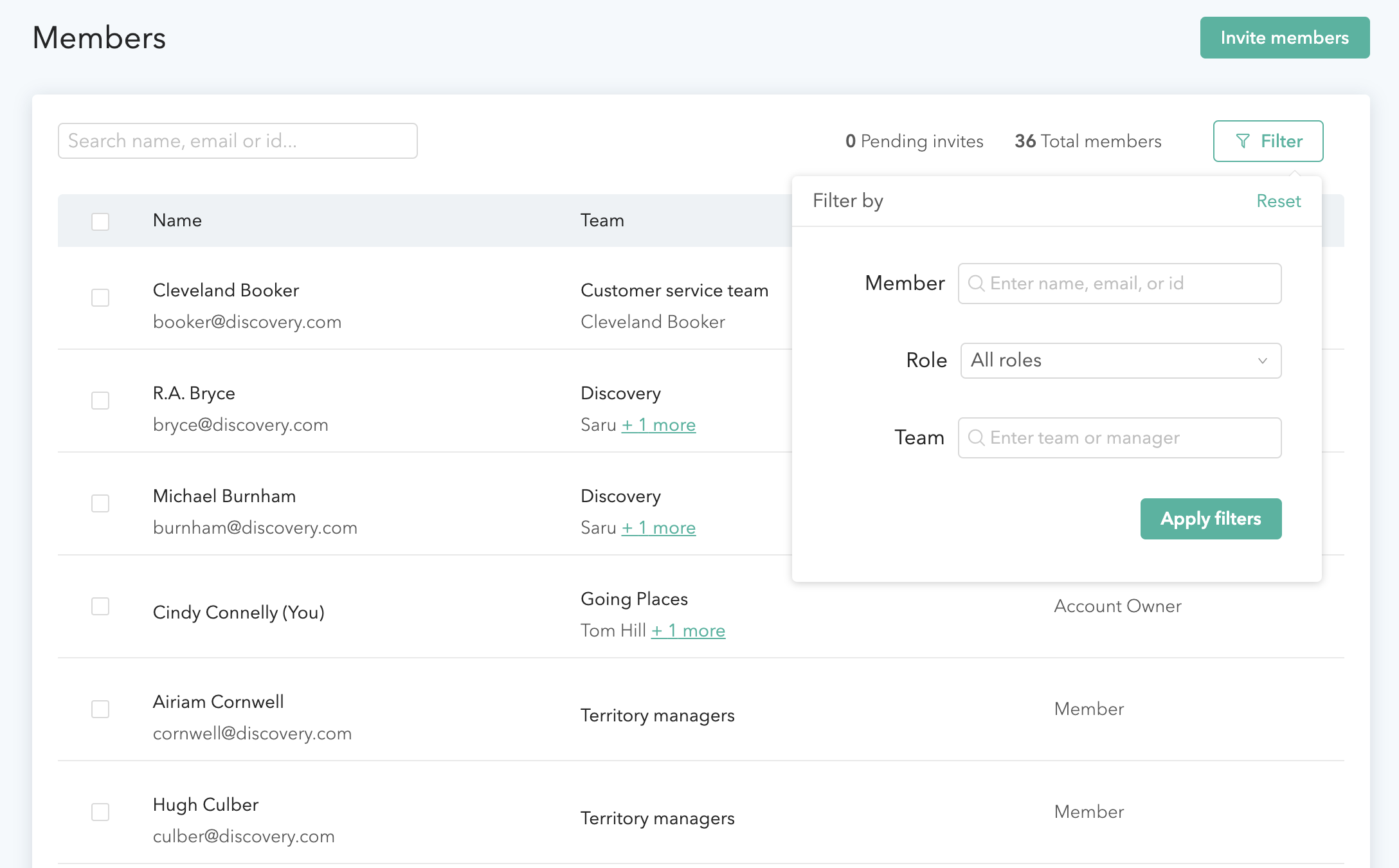 Teams
Before a "team" was the equivalent of a group of people who all have the same manager, but we know that's not necessarily what defines a team. Now, the definition of a team is much more flexible to reflect any group of people. That means a team can:
Have multiple managers, all of whom have visibility into the team's members and can approve member reports, or
Have no direct manager
From the Teams page, you can easily create a team, search for a team and access the Team Profile to update its managers and other settings.
Roles
We've changed the names of some of the Roles to better reflect how they're typically used. While you may see a change in the Role assigned to someone, rest assured there has been no change to their permissions:
"Admin" is now known as "Manager." The term has a clearer meaning, and we generally recommend anyone who's managing others and needs visibility into all of the members of their team and sub-teams be given this role.
"Manager" is now known as "Manager Limited." The "limited" in the name reflects the limited situations in which it's applicable.
Account Owners (formerly know as Root Admins) will also see two new Roles available to assign:
"Super Admin," which gives all the same permissions and access as the Account Owner, so they can do everything in Everlance and help manage your account
"Reviewer," which applies to teams managing license and insurance verification through Everlance (join the compliance waitlist on your dashboard and look out for more details in the next update!)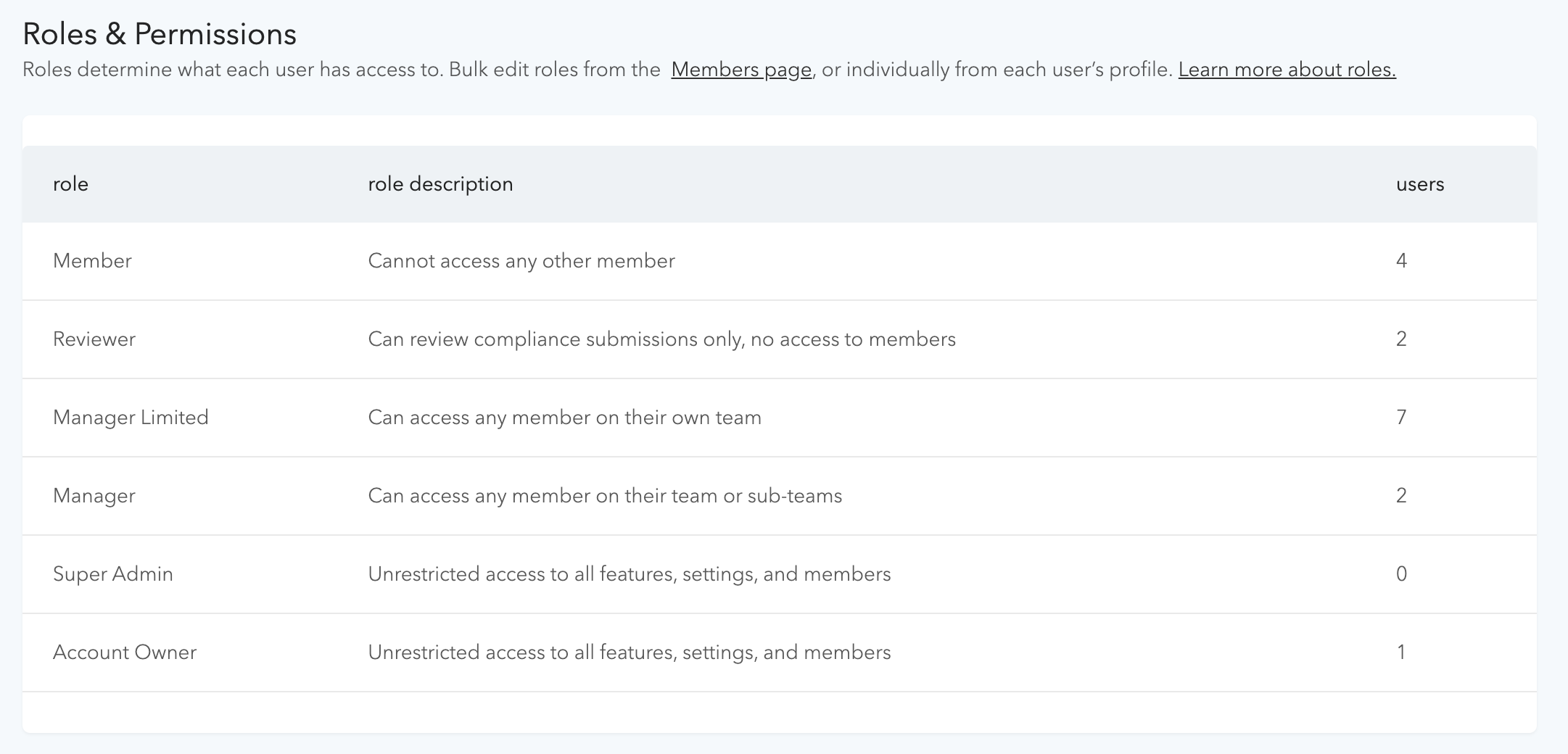 Performance
As you interact with the dashboard, you should also notice the experience is smoother, with faster load times and fewer glitches. We almost completely overhauled the fundamentals on which the dashboard is built so it is more stable and can better handle "large" requests.
Learn more about the new way to manage members and teams, including a video tour of the enhancements and Quick Reference Guide for common tasks.
July 2022 
New Admin Controls
Three new Team Settings help you customize the employee experience in Everlance and accurately reimburse drivers according to your policy.
Expense tracking via bank integration: Depending on whether your team uses Everlance for expense management, decide if employees can integrate a personal bank account or credit card. Allow it to make adding expenses easier, or remove the option for a simpler user experience if it's not useful. Learn more >



Long session trip tracking: Control whether employees can choose Long Session for their trip recording style, based on how much visibility you want and your commute settings. Turn it off to see every stop a driver makes and ensure commute disallowances are accurate, or leave it on so they have fewer trips to manage.

Learn more >





Member-specific commute disallowances: Should Everlance deduct your company's default commute amount, or a member-specific amount if it's available? Now you can specify it with a setting, and ensure that any member-specific amounts are not used, even if you had them before. Learn more >

Faster Trip Tagging
For teams that require your drivers to tag trips before submitting them, this update is for you. Your employees can now save time by adding tags to multiple trips at once. On the Trips screen of the app, they just select the trips they want and tap the new option to "Add tags"!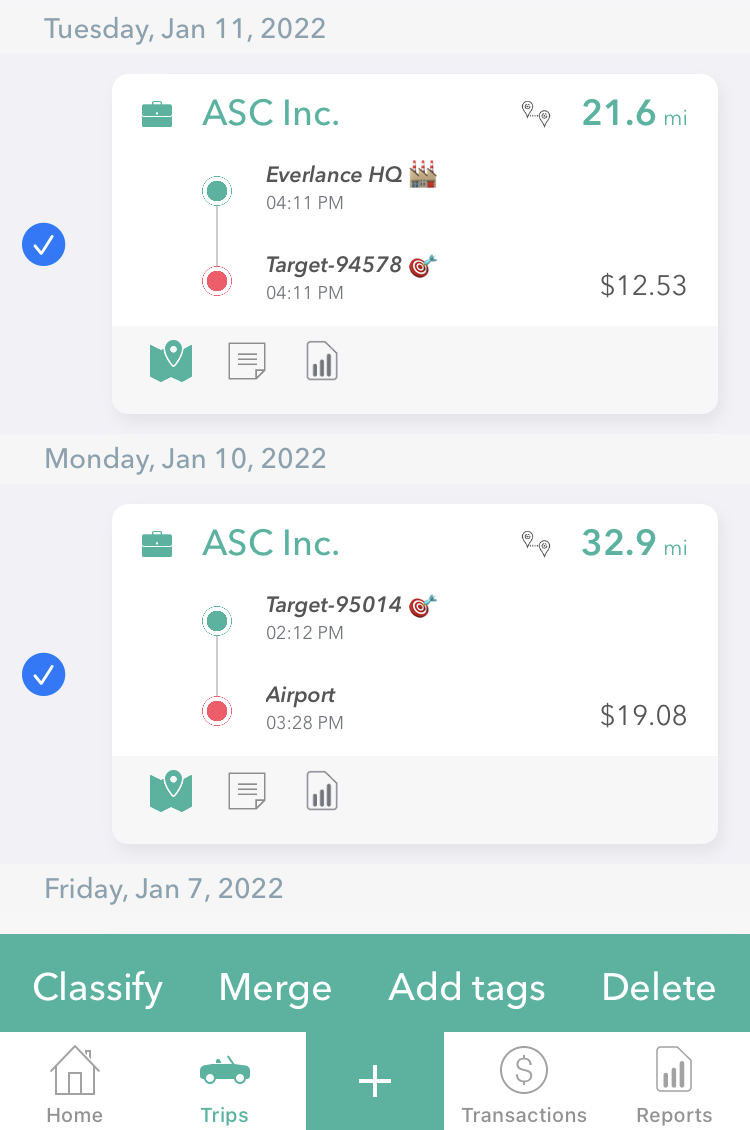 Feb 2022
Commute Disallowance
With the new Commute Disallowance feature, you can save time and reduce reimbursement costs by automating the removal of commutes from reimbursable mileage.
Customize commute settings to how your organization calculates commutes
Easily implement policy changes with a few clicks on your dashboard
Ensure a fair reimbursement for every employee with dynamic disallowances based on actual miles driven
From your dashboard, set and update your entire team's commute disallowance with just a few clicks.

Trip and Expense Tags
Tags are the smart, flexible, and easy way to organize your team's information in Everlance. Add customized tags to label, sort and filter your trips and transactions any way you want.
Create tags that speak your organization's language—no need to change your current classification system
Centrally control what tags are available to team members for consistent reporting
Add as many tags as you need to a trip or transaction to capture key information
Use tags for both mileage and expenses to better understand spend across categories
To add tags for your team, please contact your Customer Success Manager or email us at success@everlance.com.
Dashboard Report Submission
Employees now have the option to submit reports for reimbursement on their Everlance web dashboard, in addition to the mobile app. The bigger screen can make it easier for them to review trips before submission and ensure reports are accurate.