Welcome to Everlance! If you're reading this article, it probably means that you've received an email letting you know that your information is non-compliant. 
When one of your documents is rejected, it's typically because either your insurance or driver's license has expired, important information is missing, or it's illegible. Don't worry, though - we'll help you figure out what you need to do to get compliant once again!
Below are some common reasons you may be non-compliant: 
1. Your Drivers License or Insurance has expired
It is crucial to promptly renew your driver's license and insurance to regain compliance with legal requirements and program rules. This ensures you are protected legally, financially, and professionally while driving for business purposes.
2. Your Drivers License or Insurance Documents are not clear to read
We must be able to see a clear photo of your driver's license. Your insurance documentation must also clearly show that you're covered for all of your minimum insurance requirements for your FAVR program. Things to look out for: 
Is the text too small to read?

Is the image blurry? 
As a general rule, if you cannot easily read your documents, we probably can't either! 
3. Your document is missing important information
Your insurance document must provide proof of coverage for certain insurance requirements, which may include:
Coverage type, such as bodily injury or property damage

Your coverage limits

A description of your vehicle

Your insurance policy end date.
Once you've determined the issue, please correct and update your documents with the following steps: 
Step 1: Open the app and tap on Settings in the top right corner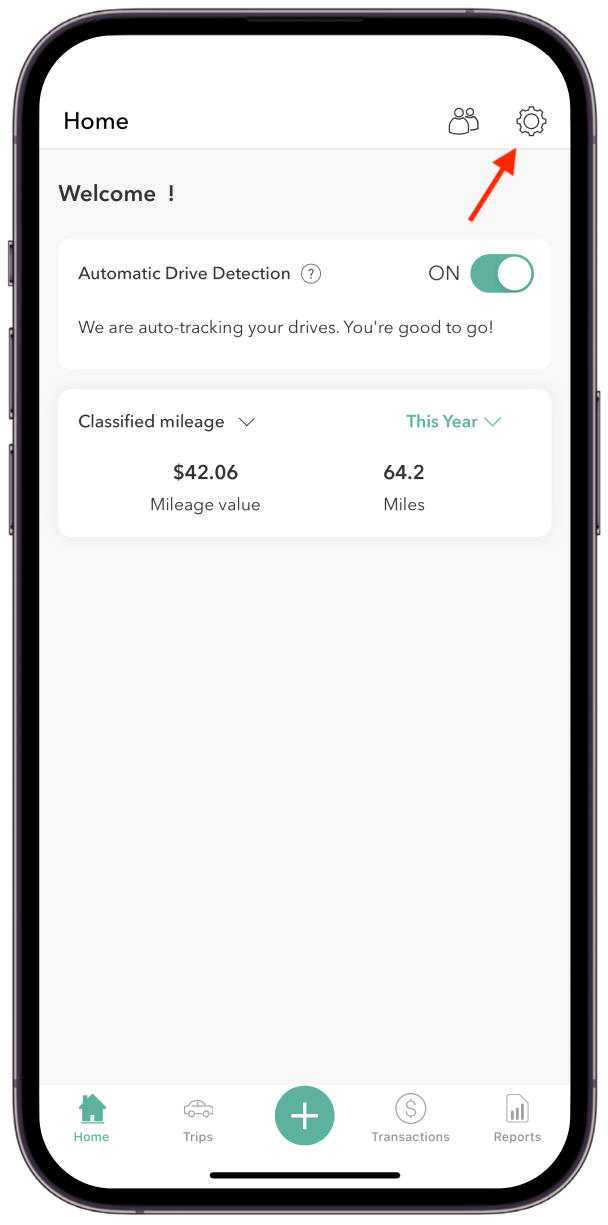 Step 2: Select Compliance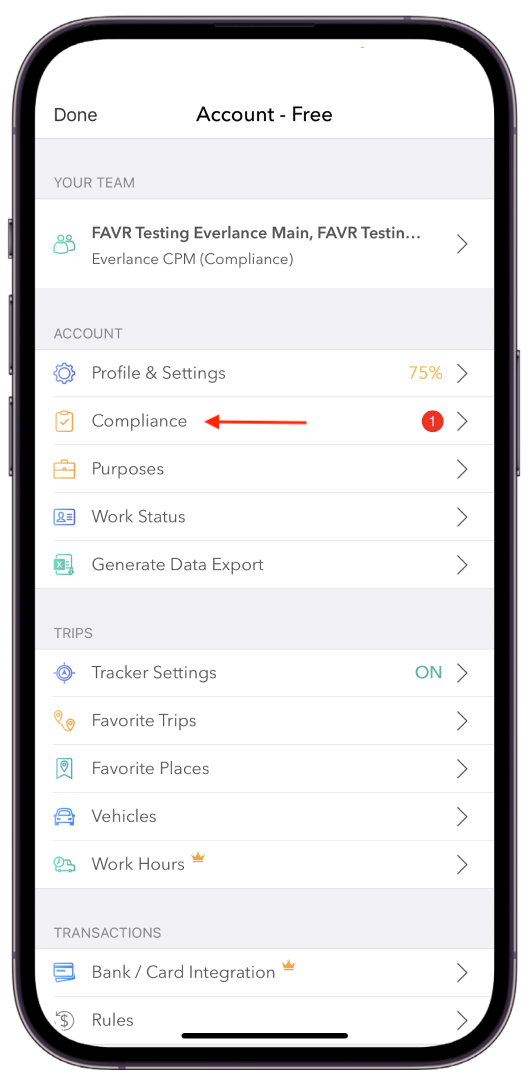 Step 3: Fill in any missing info or update your documents 
Step 4: Once you have finished, select Resubmit at the bottom of your screen

Step 1:  Log in to the Web Dashboard and click on Compliance on the left sidebar menu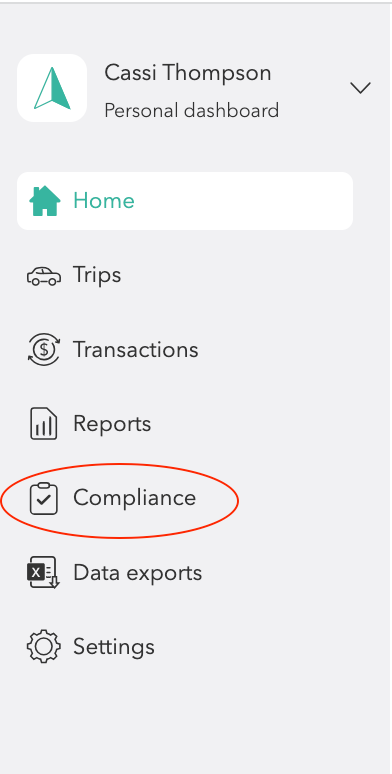 Step 2: At the top of your screen, you will see the reason(s) that you are not compliant. In this example, my insurance declaration has expired and needs to be updated. 

Step 3: Update your information in the required fields and upload your new documents.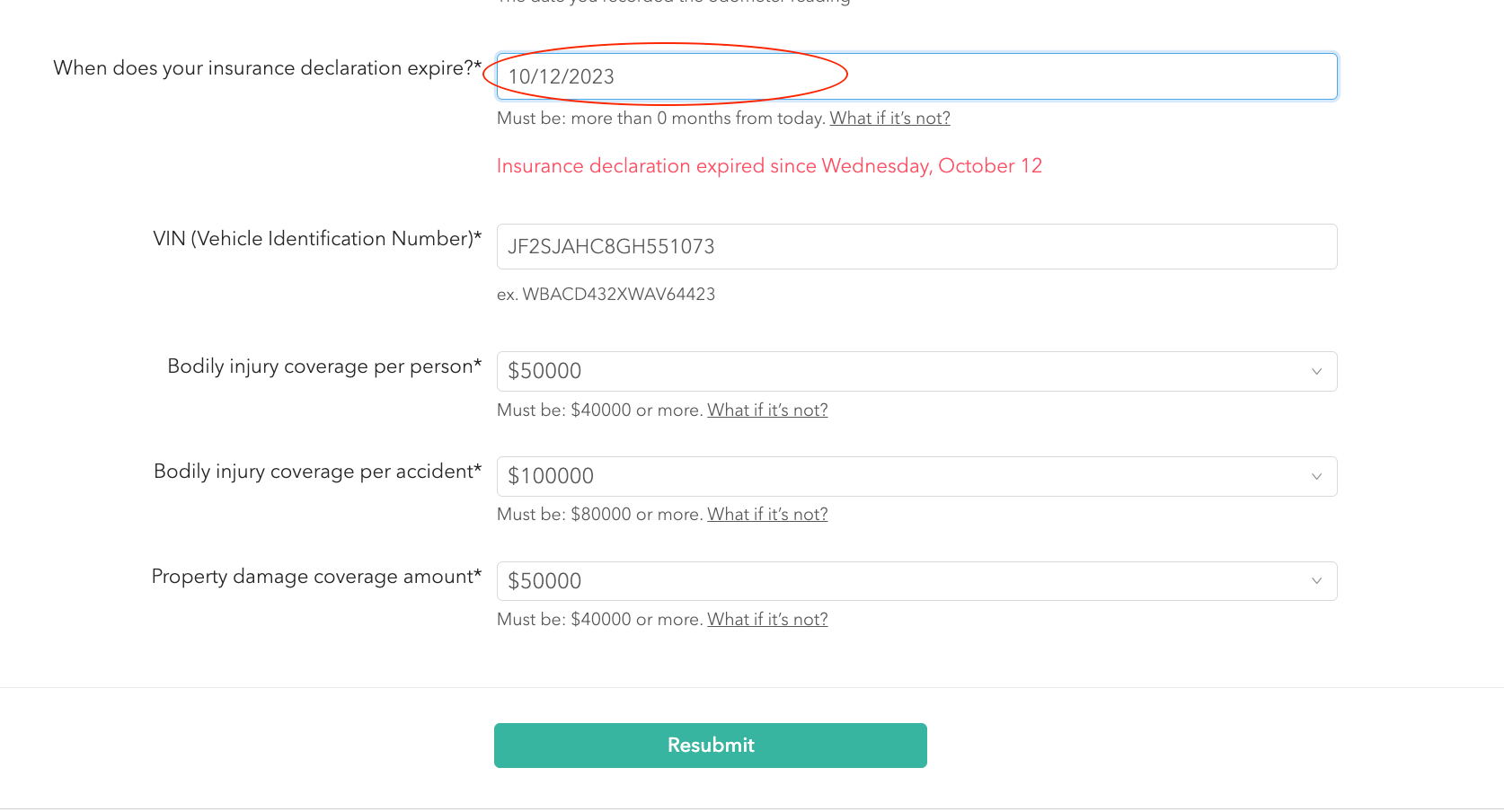 Step 4: Once you have updated your information, press the Resubmit button at the bottom of the form. 

Customer Support:
If you need to contact support or have questions, please check out our help center at help.everlance.com or reach out at support@everlance.com or by phone at (872) 814-6308 (USA) or (877)704-2687 (CAN). Our office hours are 9am-5pm EST Monday - Friday and 9am-1pm EST on weekends.