Every team is unique and our Customer Success department will be happy to work with you to help onboard your members. A few tips that should help get your team adjusted to Everlance include:
Communication.

It's key. Introduce Everlance with an intro email or call. (A template can be found

here

.) Clarifying how the team will use Everlance will help dispel some confusion. For example, letting the team know whether they'll be tracking mileage and expenses, or just mileage or expenses, will help them focus on the features that are relevant to them. Similarly, knowledge of whether Report submission is necessary or if your Managers and Admins will be generating Data Exports will help direct your user's actions. Clear expectations of usage regarding percentage of GPS tracked trips or classification/submission deadlines will also help prepare your team.
Spotting your potential pain points.

As a mileage and expense tracking application, Everlance uses location data, battery*, and/or a connection to a financial institution. Privacy is a top priority, and users have full control over how their data is tracked and classified. Because the Business product requires trips and expenses to be classified under a Team Purpose to be visible to the company, all personal, unclassified, and other trips/expenses are kept private to the user.
Compromise.

The Start Tracker feature also provides time-stamps and GPS data, though users need to start and stop every trip. If GPS stamps are prefered but users are against the Auto Detection feature, this might be a good middle ground. If Everlance is being used for receipt management, users can add receipts. Users can access the Web Dashboard to add and classify mileage and expenses as well.

Though you should see how we work compared to your other apps
Budget for warm up time.

Many teams onboard within 2-weeks, but larger teams or more complex organizational needs may add time to that frame. It may take some time for less tech-savvy users to adjust.
Employee buy-in.

Everlance makes mileage and expense tracking a breeze, giving time back to your employees. They can see mileage values, have control over their data, have faster reimbursement turnaround times, and know the status of their claims. Companies are moving to digitize these functions, and with Everlance, they know exactly where that data is going.
Rollout Planning
Invitations:
To build your team or sub-team, invite your employees as Admins, Managers, or Members. Start by inviting Admins and/or Managers so that Members can be invited directly to their sub-teams. Admins and Managers can invite their own members as well.
Invitations are sent via email, but users can also login to the app with their work email address and accept a pop up modal to join the team, making this even easier for the employees who are always on the road.
Team Size:
Smaller teams may not utilize all Everlance roles or require multilevel structuring. Inviting all or most users as Members in one go will be a quick way to get the team onboard.
Teams that have between 50 and 100 users may strongly benefit from using the Admin and Manager roles and creating sub-teams. Adding leadership to the Everlance team first will make the team structuring a bit faster and allow leadership to invite their own members. Our Customer Success Managers are here and happy to help with rollout planning, onboarding, education and more.
Teams with more than 100 users may also strongly benefit from using Admin and Manager roles and creating sub-teams. Our Customer Success department can work with your company to create a custom roll-out plan, set up team settings, and more.
Business Intelligence:
Everlance can help create certain data sets on your team over a period of time. Data Exports and Report Summaries contain different information, so it's worthwhile to think of what data or goal you need to see or meet. If you have an approval need, Reports will be your friend, but Exports can also be useful (though keep in mind, exports might show different data than Reports, which are a bit more curated). Specifying Team or Sub-team names, adding multiple Purposes, Expense Categories, Team Place IDs, and Team Places will help get the data for which you're looking.
Team Summary Data Exports provide information on team highlights while also including all trips or transactions classified under a Team Purpose for a set period of time. Team Summary Exports can be generated for a team or sub-team, which make them helpful when comparing information across departments or regions. Common data gathered with Data Exports:
How often a Team Place is visited.

The percentage of manually entered Trips.

Mileage values per each employee.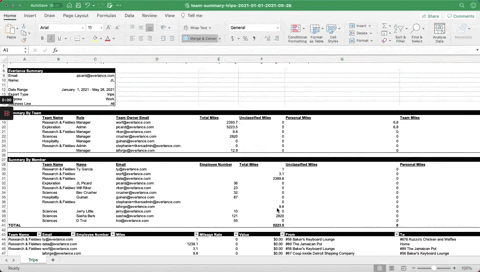 Report Summaries include all filtered Reports.
* Reach out to our Support and Success departments with questions and feedback; we love hearing from you! Support can be reached at support@everlance.com or by phone at (872) 814-6308.