You'll want to invite your team members to join you on Everlance. Click the video below for instructions or keep scrolling for a step-by-step tutorial:
Step 1: Navigate to the Web Dashboard
Step 2: Click 'Team Dashboard'

Step 3: Click 'Members'

Step 5: Click 'Invite Members'

Step 6: Enter the Email(s) of the Team Members you'd like to invite. If adding more than one Member for the same role, be sure to separate their email addresses with a comma.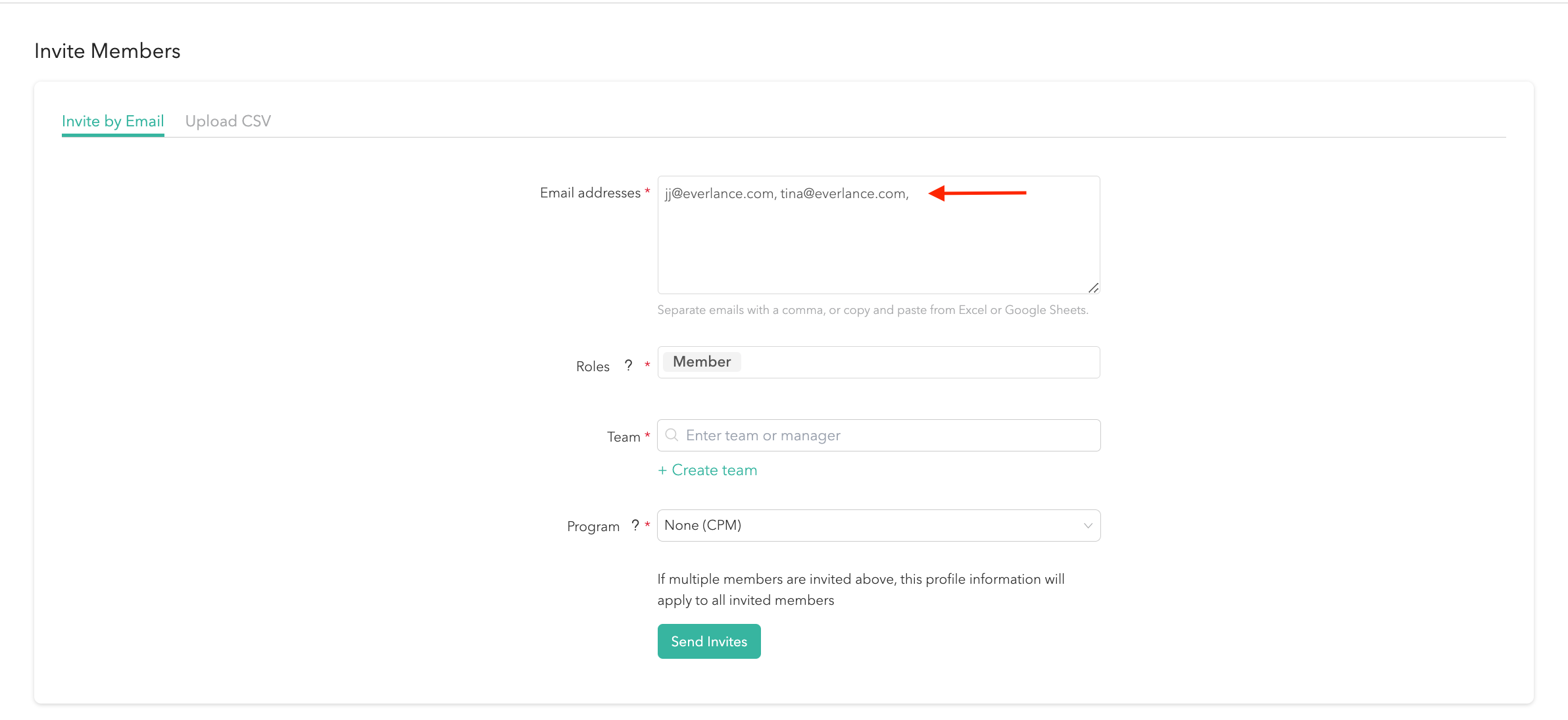 Step 7: Then select their 'Roles'. If you'd like to know the differences between team roles click here.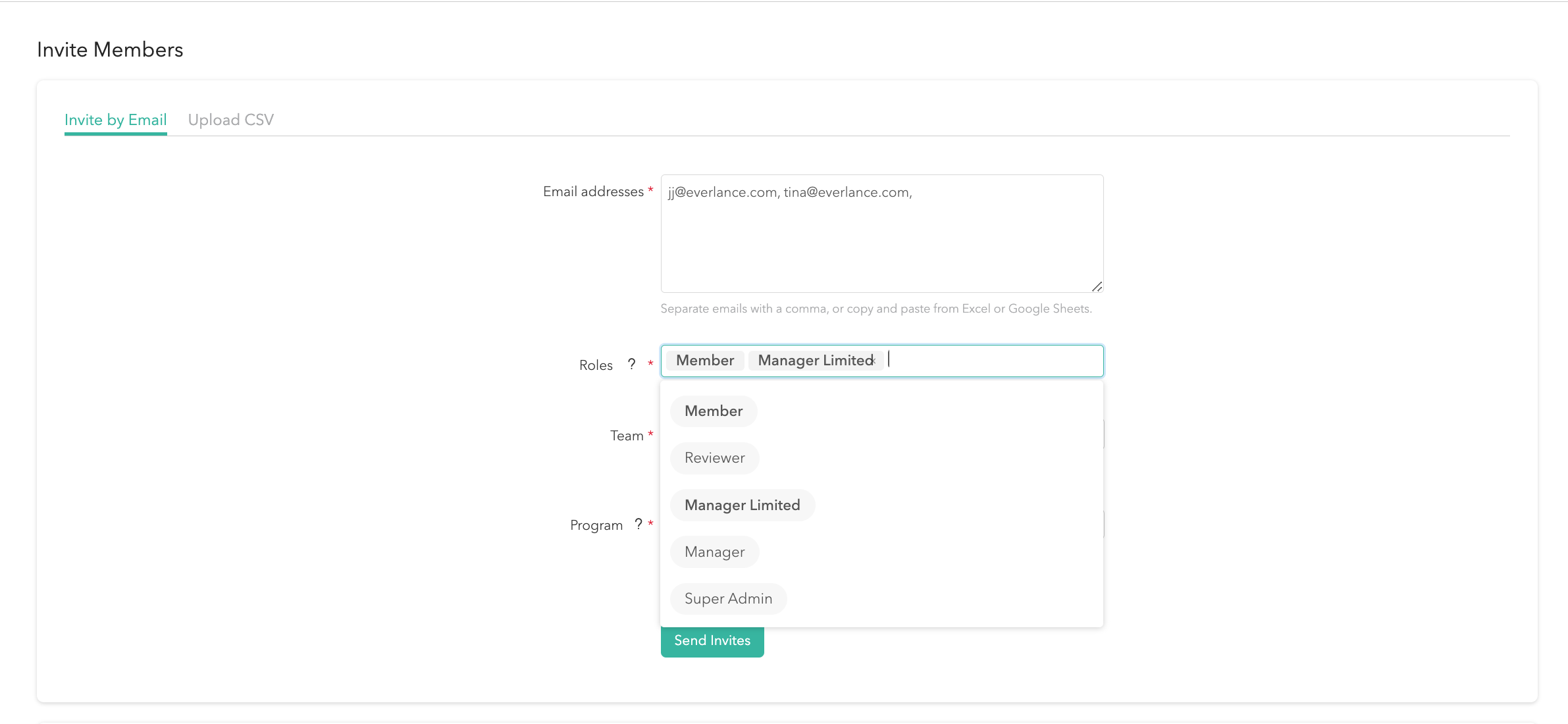 Step 8: Select their 'Team'
Step 9: Finally select their 'Program'. Make sure to select the correct Program as this will decide how your employee(s) are reimbursed.

A Cents-per-Mile (CPM) reimbursement program relies on the IRS standard mileage rate to reimburse employees for the use of their personal vehicle for work purposes. A CPM program reimburses employees the same rate, regardless of where they operate the vehicle, or the type of vehicle they might drive to perform business tasks.

A FAVR program is a more sophisticated mileage reimbursement program. Everlance's FAVR car allowance program factors each employee's local fixed costs of vehicle ownership (depreciation, taxes, insurance, license & registration, etc.) and variable costs of vehicle operation (oil & gas, maintenance, tire wear, etc.) to create a customized mileage reimbursement rate that is specific to each driver, based on the employee's location and vehicle type.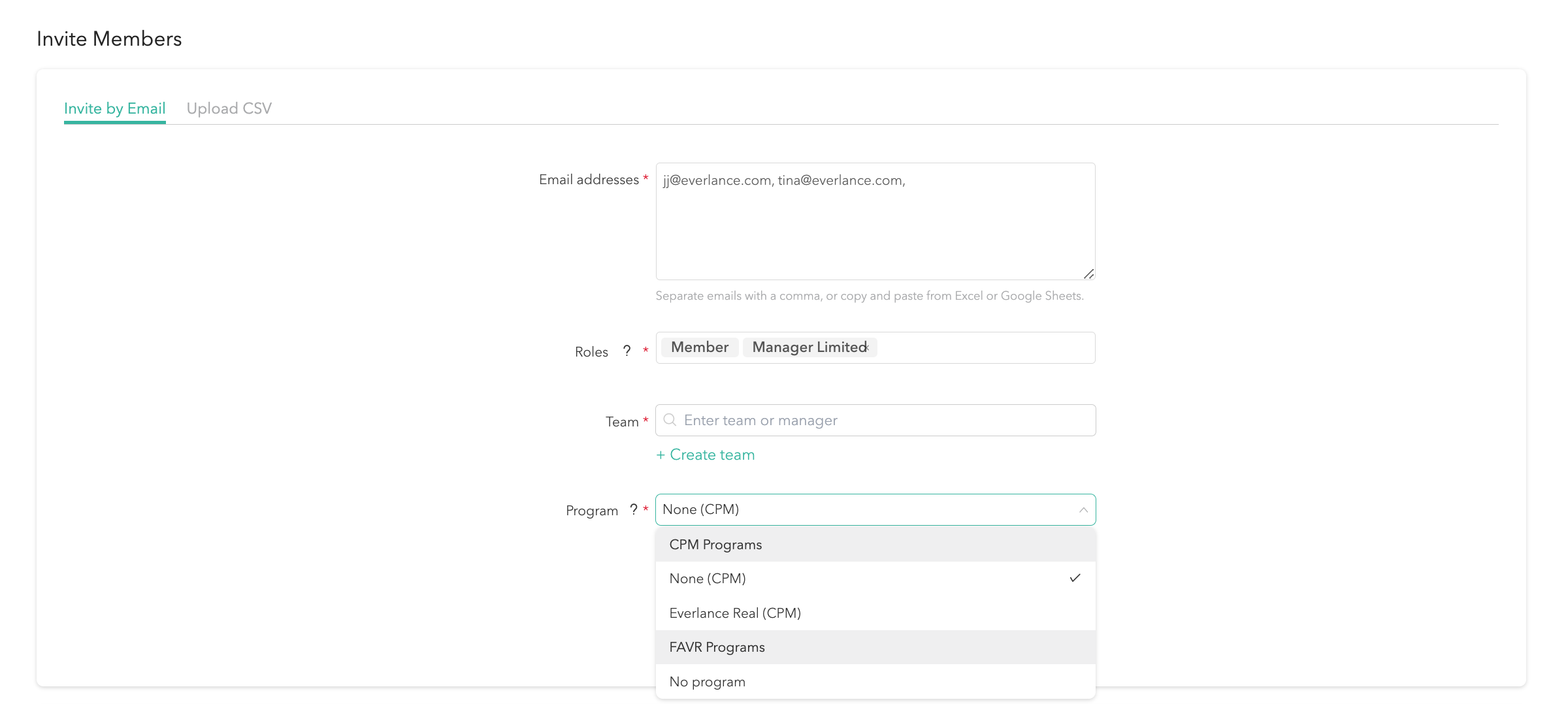 Step 10: Click 'Send Invites'
*If your Team Member does not see your invitation make sure that they check their Spam.
Pro tip: We recommend adding your Admins first, adding your Managers second, and adding your "Team members" after your Admin & Managers have successfully joined.
You should be all set!
FAQ:
How can I manage my invites?
On the same page, you'll see the list of users who have pending invitations. This means you've issued the invitation but it has not yet been accepted.
Click "X" if you need to remove the invitation
Click "Re-send invite" if you need to send it again (have the new team member check their spam folder if they don't receive the email invite).

How can I edit a member's role, team, or program?
From the member's page:
Select the member that you would like to edit by clicking in the box on the left side of the user's name.
Choose Role, Team, or Program
Select your new program and choose 'Update Member(s)
Have questions? You can email us at support@everlance.com. Or you can contact us at (872) 814-6308 (USA Only). Our Live Support hours are 9am-5pm EST Monday-Friday and 9am-1pm EST on weekends.