As an Account Owner, Super Admin, and Manager, you can add or remove members from your team and see the details on their profiles. There are three options for removing a team member from a program:
Delete employee's entire history and delete their profile from the Everlance Dashboard (not

recommended )
How to reassign a team member to a different program (see

here)
RECOMMENDED:

Archive a team member by adding an end date to their profile. This method allows the admin to maintain access to historical information but remove the user's access to their Team account.
Read this article to learn how to Add, Remove, or place a team member on leave by editing the start, end, and leave dates on their Member profile in the Dashboard.
Adding a New Driver on the Dashboard via Email Invite:
Watch this tutorial or keep scrolling for step-by-step instructions:
Step 1: Invite the driver to the team on the Everlance Dashboard by adding their email address and CPM Program.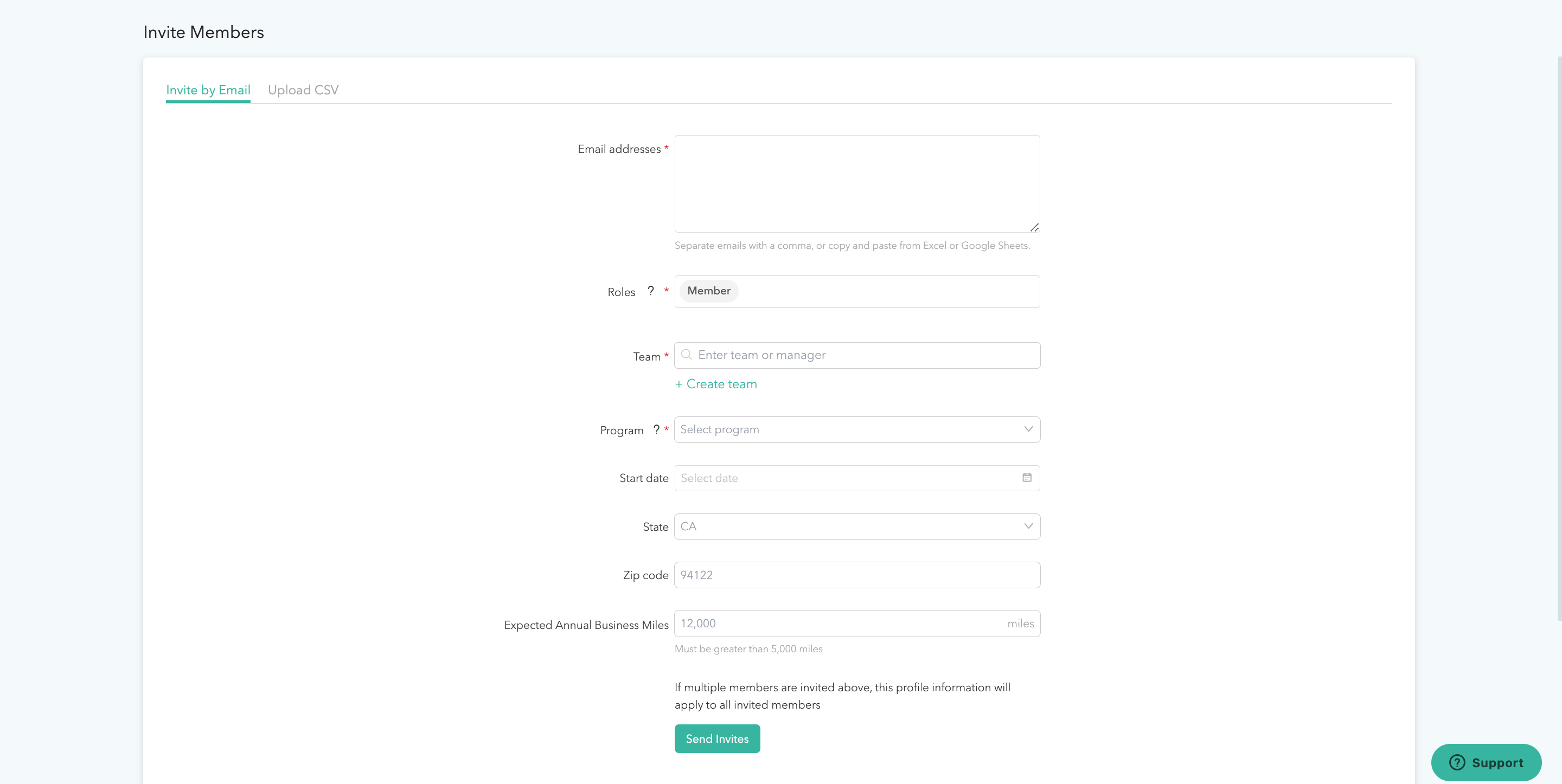 Step 2: Once the driver has accepted the invitation, you can go to the Members tab, select the driver's profile, and then enter their personal information. These details are not required for CPM Programs but they can help to identify the employee.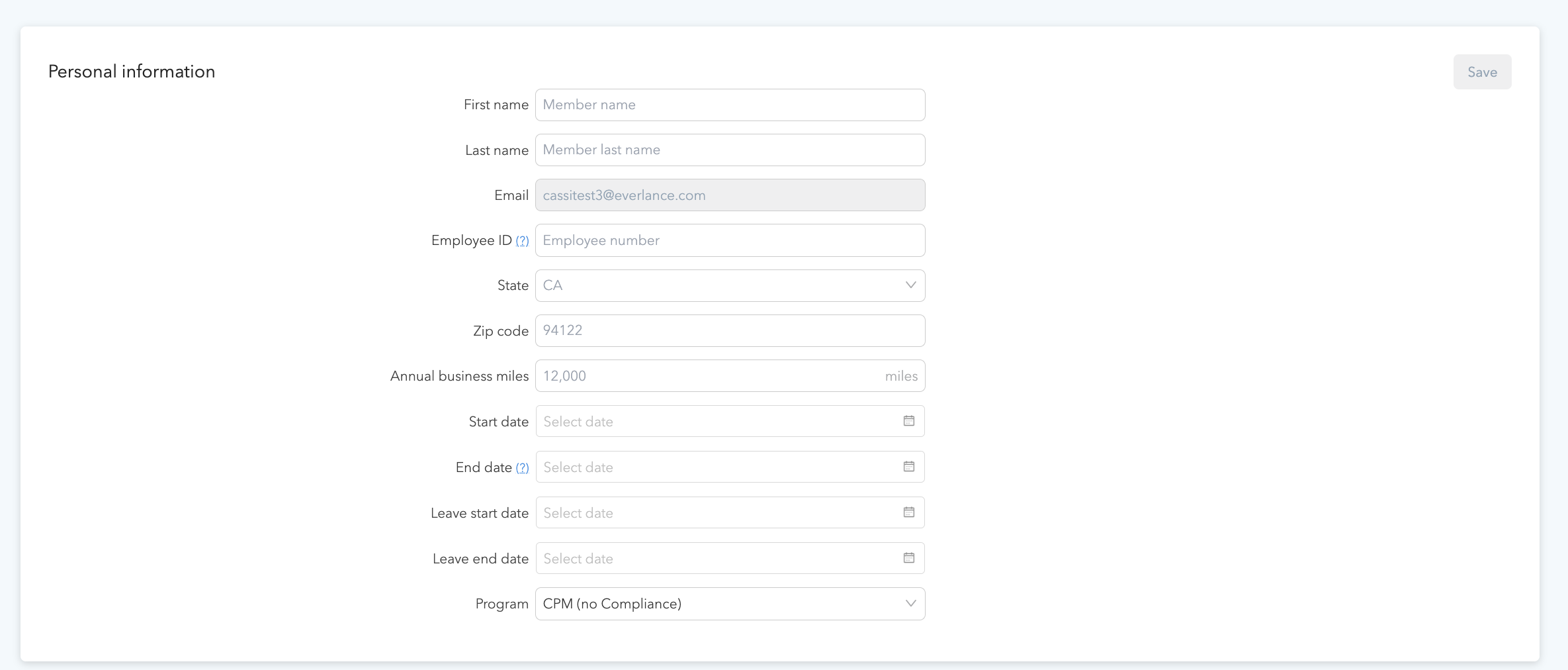 Step 3: Save!
Once the invites have been accepted by your employees, you can then view their information on their profile on the Member page.
Archive a Driver from a Program:
Watch this video tutorial or keep scrolling:
Step 1: Go to the Members screen on the Everlance Dashboard
Step 2: Find the profile of the driver that needs to be removed from the Program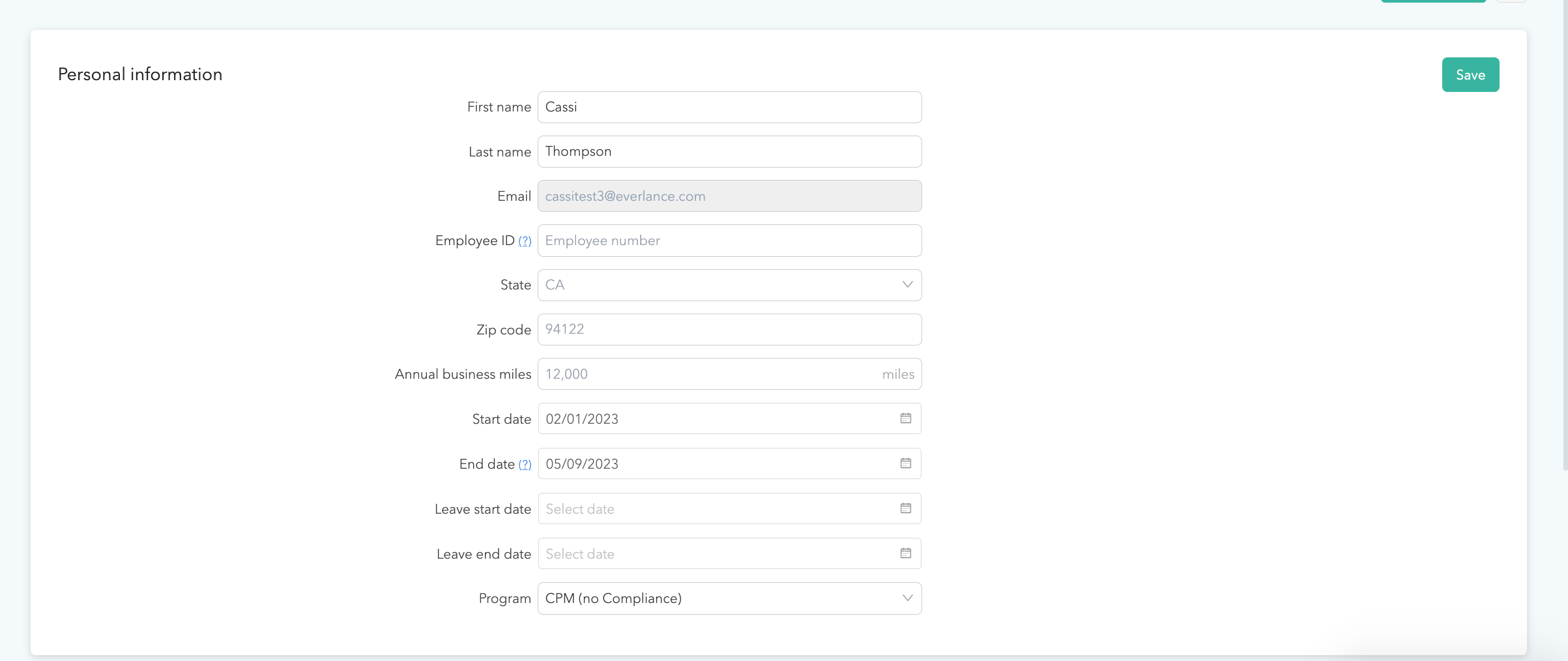 Step 3: Input their end date and click on 'Save' in the top right corner. If the end date is the present day or in the past, the driver will no longer be visible on the Members page unless you search for them using the search bar.
After their end date, the driver will still have access to the Everlance app, and their historical data so they can export and submit reports with their remaining mileage for a 30-day grace period.
How to Place a Member on Leave
Just as you'll use the Start date to add a member to a program, and an End date to remove them, you'll use the End and Leave fields on a team member's profile to suspend their activity for a period of time:
Step 1:
Go to the

Members

Page
Step 2:
Select the profile of the employee you need to update
Step 3:
Complete the

Leave Start Date

field
Step 4:
If you know it, go ahead and fill out the

Leave End Date

if you know when the team member will be returning to work.

When the Leave Start Date is added to someone's profile, their fixed payment will be prorated based on this date. They will remain indefinitely inactive until the end date is filled in.

Once the Leave End Date is updated, they will receive a prorated fixed payment based on when they return from leave.

You can also watch a tutorial here:

We love hearing from you! Support can be reached at support@everlance.com or by phone at(872) 814-6308. Our office hours are 9 am-5 pm Monday - Friday and 9 am-4 pm EST on weekends.